Introduction of Chengdu University
Chengdu University, founded in 1978, is approved by the Ministry of Education as a full-time regular undergraduate institution. It is located in Chengdu City adjacent to the 500-year-old Ming Royal Tombs. The university covers an area of 1,800,000 square meters in total. The university is home to 12 colleges, an affiliated first-class comprehensive hospital at Grade 3 with a history of more than 100 years, and Sichuan Antibiotic Industrial Institute, one of the key national pharmaceutical research & development institutions.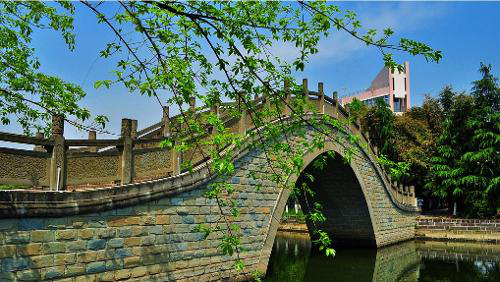 International Cooperation and Exchange
Up to now, CDU has established friendly partnerships with over 40 colleges and universities from more than 20 different countries and regions around the world such as the United States, France, New Zealand, Thailand, South Korea and so on. In 2010, CDU set up the Confucius Institute in the University of New Hampshire U.S.A and became the second university to have Confucius Institute in Sichuan province. Since 2009, CDU has being conducting comprehensive cooperation with Waikato Institute of Technology, New Zealand in the fields of students, staff and academic exchange. In 2011, CDU established the Sirindhorn Thai Language and Culture Classroom with the Royal Chitralada School of Thailand. All these programs help to widen the international view of teachers and students.
Programs
1. Degree study (Chinese medium)
Bachelor
Civil Engineering
Software Engineering
Computer Science and Technology
Bioengineering
Law
Tourism Management
Business Administration
Food Science and Engineering
Mechanical Manufacturing and Automation
Chinese Language & Literature
Animation
Physical Education
Clinical Medicine
Preschool Education
Master
Biochemical engineering
Pharmacochemistry
Pharmacy
Pharmacognosy
Pharmaceutical analysis science
Microbiology and Biochemical Pharmacy
pharmacology
Plant
Food Processing and Security
Arts
Art and Design
Music
Agricultural machanization
Agricultural informatization
Rural and regional development
Agricultural science and technology organization and service
Music
Radio and Television
Theatre
Radio and Television
2. Non-degree study
Chinese Language
Fees
1. Tuition Fee (in RMB)
Degree study
Bachelor Program

Registration fee

Tuition fee

Book fee

Humanities

400

14000/year

Various according to different major

Arts/Medicine

400

16000/year

Science/Engineering

400

16000/year
Master Program

Registration fee

Tuition fee

Book fee

Humanities

400

14000/year

Various according to different major

Arts/Medicine

400

16000/year

Science/Engineering

400

16000/year
Non-degree study
Duration

Registration fee

Tuition fee

Book fee

1 semester

400

7000

Various according to different language level

One academic year

400

14000
2. Accommodation Fee (in RMB)
Type of room

Facilities

Cost

Notes

Single room

air-conditioner, furniture, internet

access, refrigerator, independent bathroom, public kitchen,public laundry room, lounge

50 /day

Internet is at your own expense

Double room

25 /day
For more infomation about this school, plz contact
Shirly
www.cuecc.com
Tel: 0086-571-88165968
Email:recruit@cuecc.com
skype:teachcn
QQ:2853662504
Public Wechat: CUECC2003
Add: Hangzhou(310012),China