1 rose: love at first sight, you are the only one.
2 roses: Mutual feelings, a commitment, an engagement or coming marriage.
3 roses: I love you.
9 roses: I will love you forever.
10 roses: You are pretty.
11 roses: You're my treasured one.
12 roses: I love you and I am grateful for your presence.
13 roses: Forever friends.
20 roses: I'm sincere towards you.
21 roses: I'm committed to you.
24 roses: You're always on my mind.
25 roses: Congratulations.
36 roses: I'll remember our romantic moments
40 roses: My love is genuine
99 roses: I'll love you till the day I die.
100 roses:100% love, I'm totally devoted to you.
101 roses: Best of all, you're my one and only.
108 roses: Proposal, Will you marry me?
365 roses: I love you every single day.
999 roses: My love will last till the end of time.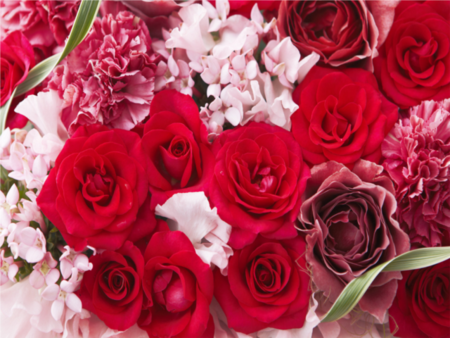 Roses in mixed colors: You're everything to me
Red roses: romance, beauty, respect, courage, passionate love and unity
Red & white roses together: unity or togetherness.
pink roses: appreciation and gratitude
White roses: nity, loyalty, reverence, humility, sincerity, purity
Yellow roses: friendship, familiar love and domestic happiness
The combination of red roses and pink roses: strong romance and passion
Black roses: a major change in the future.
Purple roses: enhancement, magnification, majesty and glory
Blue roses: fantasies, hoping for miracles, new opportunities and possibilities.
Orange roses: enthusiasm, desire and fascination, I am proud of you
Peach roses: desire, anticipation, sincere appreciation and optimism for the future.
Pale peach roses: symbol of modesty.