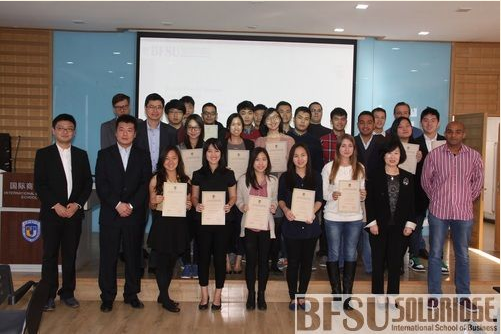 Outstanding students enrolled in fall won IBS scholarship and were honored at the annual IBS Scholarship Ceremony on Wednesday, October 15, 2014 in the Multifunctional Hall of IBS.
Five distinguished guests were invited to attended this ceremony as scholarship presenters. They were Dr. Liu Peng, Acting Dean of BFSU-Solbridge, Dr. Isabella Seowon Kam, Vice President of Woosong University and Acting Dean of BFSU-Solbridge, Mr. Tan Zhe and Mr. Guo Hao, representatives from S.F. Express and Dr. Didier Soopramanien, Director of Academic Affairs of IBS International Program.
Dr. Liu Peng gave an opening speech to congratulate students for the IBS scholarship and to thank S.F. Express's support to IBS Scholarship. Dr. Liu reviewed the development of BFSU-Solbridge program and looked forward to the future that IBS students would have more opportunities to prove themselves and pursue their dreams.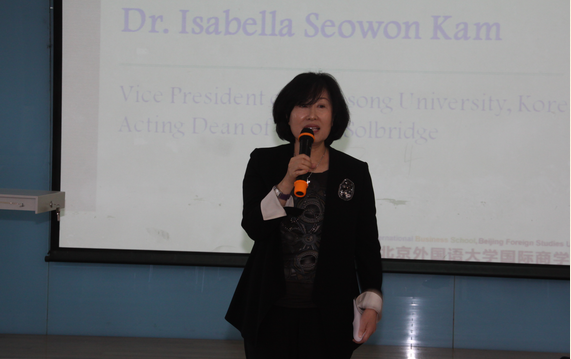 Dr. Kam also gave an address to the students, in which she shared a poem and her own early experience with all the students and encouraged them to keep going forward.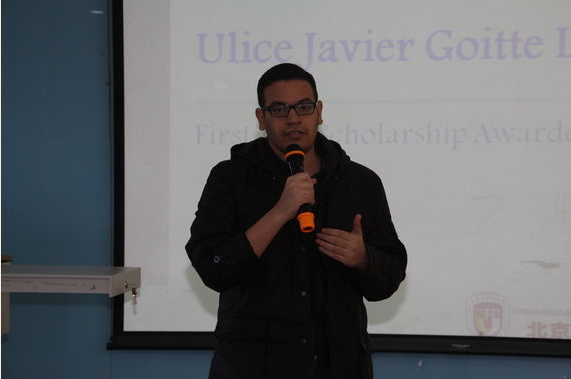 Ulice Javier Goitte Lopez, one of the IBS First Tier Scholarship winners, shared his feeling about winning scholarship. He believed that winning the IBS Scholarship "means that you are on the right path for success" and said that "ultimately, I want you to be ambitious, the real competition is out there."
This year, the IBS Scholarship for students enrolled in fall was awarded to twenty nine students because of their outstanding performance in academic grade and in school activities and social practice.

The First Tier Scholarship went to Jordan Donald Sprentz (Canada), Juno Fernandi (Indonesia), Ulice Javier Goitte Lopez (venezuela), Jonathan Kurniadi Holiyanto (Indonesia) and Anastasia Kornietskaya (Russia).

The Second Tier Scholarship went to Joanes Yiayoglou Ramos (Spain), Jufilin Wijaya (Indonesia), Pere Pol Sitjas Hsu (Spain), Sascha Sommerschuh (Germany), Park Minju (Korea), Lee Ahn Je (Korea), Steffani Jessica Affandi (Indonesia), Kim Myeong-Jun (Korea), Clarissa Angelene (Indonesia) and Jakhongir Abdujalalov (Uzbekistan).

The Third Tier Scholarship went to Jung Soan (Korea), Arnav Narsing Rana (Nepal), Moritz Gese (Germany), Scarlett Nicole Hintermeister (Switzland), Diana Natalia (Indonesia), Kim Sooheon Albert (Korea), Ramli Michelly (Indonesia), Parfjonovs Aleksandrs (Latvia), Huan Hui'en Grace (Singapore), Saverio Chandra Kwek (Indonesia), Chin Chen Zhuan (Indoneisa), Artyom Tsoy (Kazakhstan), Goldie Puteri Chandra (Indonesia) and Kim Byung Jun (Korea).